Day ???
November 16, 2016
Day 1
How fantastic, a book! I observed the wreckage and noticed it sitting on the metal of the plane. I was the lone survivor. Until I can locate food, I refuse to even write what will become of the casualties.

Day 2
Still no food nor water, but I managed to make a form of prod with a palm sapling and a large tree to sleep under

Day 3
At last, A spring! After all this time, water is found. Food however, is no more than a few grubs. I started a small living hut with much room for expansion.

Day 4
My food is getting stale and I can't preserve it. I made a rock message saying SOS on the beach.

Day 5
I'm getting worried about my sanity. Living on a desolate island is hard on the mind. I did find a wild boar, so I will hunt that tomorrow.

Day 6
The boar nearly killed me, but he did lead me to grubs. I have no choice.

Day 7
My hut fell down. Mmm… Grubs….

Day 8
I-I-I Heard V-V-Voices… But n-n-not from out th-th-there… from in h-h-here…

Day 9
ThE ClowNS ArE HEre! i CAn SmeLl iT!

Day 10
WHEE!! I LIKE BOOKS!!!

Day 11
CARS!! I SAW CARS IN THE WATERY THING!!

Day 12
SKIBBELTY DOO!!!

Day 13
CLOWNS!! CLOWNS!! CLOWNZZZ!!!

There's a stain on page 14… looks like white face makeup

Day 14
I SAW TH                   ! THEY
TRIED                     Y JOURNAL
BU                      IT WITH MY LIFE!

Day 15
The Clown's scared the sense back into me. I don't know if they were real or not, but no matter what, I will hunt them down.

Day 16 on is coated in red

Day 16
I found their living quarters. It's a big building with a big metal tower. I'm going there tomorrow.

Day 17
I slept behind the building. I'm going in with my prod.

Day 18
THEY STAGED ME! NOW THEY ARE GONE!! AND SO AM I!

The journal was found on the set of "Survivors"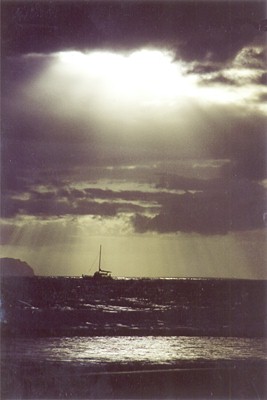 © lily H., Kekaha, HI