a glimpse of gold
MAG
November 11, 2014
the vibrant,
bright,
crisp
amber leaves rain down on my head.
like tiny ballerinas,
they
dance
through
the
air.
the teeth of the rake
gnaw at them until they are in a
messy,
shredded
pile.
everywhere i look, there are
crimson,
maroon,
and burgundy leaves covering the ground like a thick carpet.
a cardinal swoops out a tree.
the beautiful crimson bird captures
my attention,
making me stop and stare.
"i want to go first!" shouts drew.
"too late!" i respond, not giving him enough time to process my sentence before i take action.
i get a running start, and i
launch
myself into the damp mountain.
the sour aroma of
damp,
dead,
decaying
leaves penetrates my nostrils.
a twig jams at my side;
itchy, gross bugs surround me,
but there is no place i'd rather be.
"wait for me!" drew whines; he plops down beside me, showering me in a wave of soppy leaves.
i would never tell him this, but i am glad i have him for a brother.
a sharp,
crisp,
cool
autumn wind rushes over me;
it
whips
my hair,
and freezes my nose.
i inhale,
the old,
rustic air fills my lungs;
it cools me, calms me,
i am totally relaxed.
i
love
Autumn.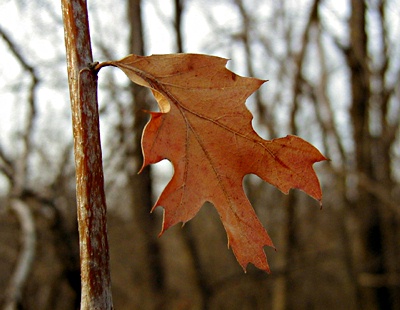 © Brad H., Lemont, IL