the fortune teller
October 17, 2013
i kissed your lips, I can taste the wine, from the times
at the table, after i washed your feet,
my hair dank from the duty. On my knees, i felt you touch my crucifix
stroke my coverings, say it's okay, he is my savior.
But your touch was not soft, there was nothing gentle about God's love
After you choked me with my chain
nailed that crucifix within me; I can only fan so much before my
arms lag, the winds will stop blowing north, your star will soon
disappear
under the guise of a supernova.

The three silver knobs beneath my eyes
constellation draco, are not your star,
not a map to lead you to a dying mother,
lulling to reapers in
childbirth.

Mary.
Take me out to the mercy road, where I can repent
of this love
it is too powerful, too powerful, My thoughts are not what they are;
a patron of the lost, can you find me, help me.

my knees are bruised, my soul is weak
blood is the ink that writes on the parchment
you'll bind it up with torn strands
of my hair.

irises are tired, yet they keep finding themselves
face-to-face
with fragments of the stars
that have fallen.
(angels, not stars, but I won't tell you that,
knowledge jesus shouldn't know)
they are not stars, i am not a star
we've discussed
only tidbits of cosmos live within me,
but you've taken the hills on my collars so literally
so what can i do other than let the light
burn out of my eyes; you can kiss a shell, suck
out the dust you don't have.

the star marks leave grey burns on the skin,
the romans knew,
the leech you were
so they pinned you to my crucifix and all i had ever ordained
(it was meant as a wish, but it did occur, it did)
came to pass.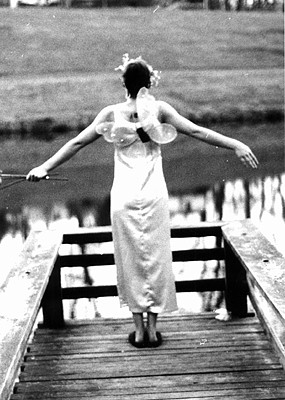 © Jessica T., Cincinatti, OH