Just Not
March 3, 2013
Gates of black iron,
Stairs of strong steel,
Metal hills and bronze mountains,
Pointed,
Icy,
Sharp,
Seemingly,
But not.

No barbed wire, no dripping thorns,
No titanium walls or knife-edge doors,
No.
Just words. Just books and dust and black ink pens,
Just gray numbers and coughing research,
numb breath and heavy curtained eyes.

No.
No gates of Iron and stairs of steel,
No mountains slicing desperate, climbing hands to ribbons.
No fortress.
No castle.
No impenetrable obstacles.
Just brown paper bags and faces at a table,
Just tensions headaches, texts, and divisions.
Just poster board and
sticky,
sucking,
tempting,
persuading,
cheating,
glue.
Just flash cards that lie about the answers,
and hole punches that don't punch all the way through.
Just drunken staplers, sloppy with mistakes, and swollen with their destroyed future,
Just markers that smell wrong, no matter how much perfume they put on,
Ones that dry up too fast and give in to addiction.
Tempermental, exhausted, determined, uncaring, bold, irritating, threatening, ignorant, short-sided,
us.
Just us.
Just school.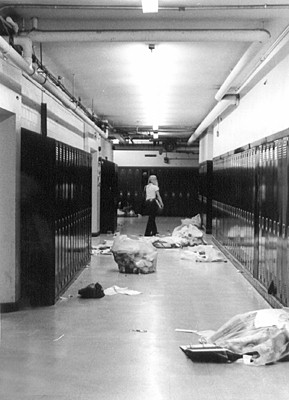 © Halsey S., Marblehead, MA