I am Not Me
November 7, 2012
AN AIRPORT,
I HEAR EVERY SOUND
WAFTING SERIES OF SMELLS.
BODIES GREETING MY SHOULDERS WITH A BUMP
TIPPING TOES OVER MY SHOES
INHALING MY SCENT
VIEWING MY PRESENCE
ALL THIS WHILE I STAND STILL
I STAND ALONE.
I KNOW THEY ARE THERE
I HEAR CONVERSATIONS RISING AND FALLING
LUGGAGES DRAGGING THEIR FEET
AS IF PROTESTING FOR THEIR OWNERS TO LEAVE THEM BE
"LATE FLIGHT. DELAYED FLIGHT. THIS FLIGHT IS LEAVING NOW"
THE ANNOUNCER WOULD SAY
ALL THE WHILE I STAND STILL
I STAND ALONE
I HEAR MY HEART BEATING SILENTLY
THE SILENCE IN MY HEAD IS POUNDING
LONELY HAS TAKEN OVER MY BODY
LIKE A STATUE, I BECOME UNMOVEABLE
I AM NOT ME, I AM LONELY
MY BODY IS A SHELL
SHE BREATHES HER VENOM THROUGH ME
I HAVE NO CONTROL SO I STAND ALONE
MIND AS A VASLE
SHE BLOCKS ANY INTERACTION
THE SILENCE ROAM MY HEAD LIKE A BAD AURA
LIPS UNMOVEABLE
VOICE INAUDIBLE
I AM THE DAUGHTER OF ALONE
SHE RAISED ME WITH FEAR
DICTATING MY EVERY MOVEMENT
BANISHING ME WITH SILENCE
I STAND IN A CROWD I STAND STILL
ALLOWING LONELY TO HOLD MY HANDS
STAND ALONE.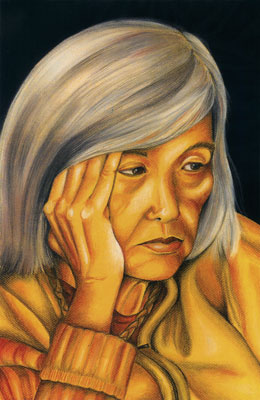 © Kaitlin C., Forest Hills, NY