Winter Soldiers
October 25, 2012
Icy trees glisten;
snow melts concealing
wet boots in thick mud.

Shivering Soldiers
march on.

Abandoning—

Brothers,

Sons,

Fathers,
the Earth soaks
in their life,
leaving nothing behind but
cold bodies and

tears.

Frost bitten fingers
ache and scream
while maintaining
harsh grips on

rifles.
Weak knees threaten
to give out,
only to be pushed,
harder to move on.

Lingering smells
of cigarettes and sweat
dance among

Shaky Soldiers.

A moments rest
is all they crave,
haunting explosions

Shove Soldiers
from thoughts of home—

Mothers,

Wives,

Sisters,

Daughters,
their happy place.

Instead they're
relentlessly forced into
the mechanical march.
In order they creep;
heading towards
deaths cold embrace,
to again meet, their

cold brothers;
in a world of

eternal sleep.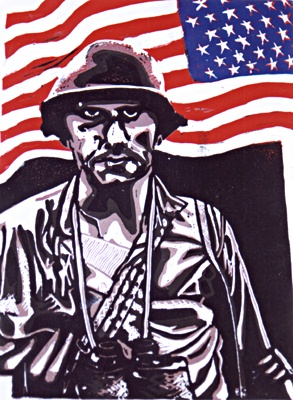 © Troy W., Kannapolis, NC