Let's Start Out Now
September 28, 2012
We'll start out now, as friends.
When people start to ask
"What's up with you two?"
We'll look at eachother, laugh, and say
"What do you mean? We're just friends."

But really, we'll be "just friends",
our hugs will begin to linger.

We'll go on walks,
bike rides,
hikes,
day trips,
ferry rides.

I'll say I'm cold, you'll lend me your coat.

We'll smile together,
talk,
eat,
dream,
reminisce,
discuss,
argue,
doodle,
play,
read,
joke.

Are we flirting or joking? I can't tell anymore.
The lines begin to blur.

I grab your hand, I don't have to tell you,
You know. Like you always have.

I like you.

So we go out, we hang out, we date.
One day, we kiss.

It's natural,
comfortable,
easy,
real,
beautiful.

Maybe it doesn't last, maybe it does.

Let's start out now.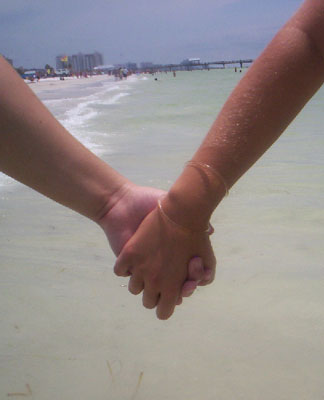 © Belinda H., Palm Harbor, FL