A different type of metaphor.
September 22, 2012
Colors. Shapes. Forms. Figures. Slide through those long condensed hallways.
Shoves and shouts,
ringing and withering.
The words that sting,
come spiraling towards me.
Swarms of black and white crowd me.
Their odor overpowering.
Their skin overwhelming.
Their words disintegrating.
Crumbled in the corner,
I hide from those that stare.
Their long hatred looks come reaching towards me,
I try to let them slide,
but they come slithering back.

The board is like us. White and shiny with those few black streaks just dotted here and there.
We are the luminous bright,
while those streaks just get thrown out.
Why throw them out?,
when they shine brighter than us,
their souls and spirits explode and form a new type of era.
A colorful one.
Where no shouting,
or shoving comes into place.
Love and comfort instead
file through those shallow hallways.

We can change the world.
We have in the past.
Their actions were the first step in a handbook of How-To-Do's.
The present depicts what tomorrow will be.
The future lies in the hands of the teenagers.
Don't let it slip.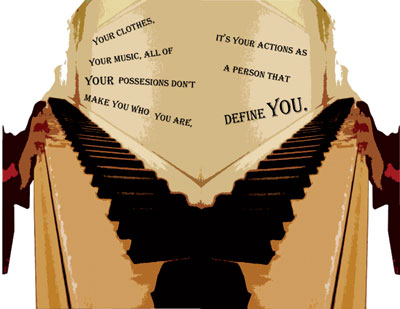 © Brad F., Stewartville, MN