The Ballad of One Nobody
April 25, 2012
The ballad of one nobody
The bullies bully, the wh***s wh***, and the sucks ups suck up.
High school is the best days of your lives; says the adult.
How can this be true; the student responds

Well it must be true if the adult says it to be
So my life will never be better?

This student thinks of death every night,
Because his life will never be better,
When dogs are in a terrible amount of pain they are killed.
That should be true for people

His life has got to turn for the better,
Booze will make him feel better,
It didn't,
S** will make him feel better,
It didn't,
LSD, Crack, and Weed will make him feel better,
It didn't

One can only handle so much sadness day after day; with no happiness.
The only thing keeping him alive was his mother; he wonders how his my mom will feel with him dead.
His mother yells at him that night, she said words that she did not mean.

The knives come out when the suns leaves.
A little bit of excitement won't kill him.
With a flick of the wrist he is finally living.
Blood gushes like a waterfall.

I haven't felt that alive in years.
I wonder what a gun would do!!!

He holds it up to his temple feeling like a man,
Everyone hates him, so he knows he won't be missed.

I'll do what everyone has wanted to do to me for years,
I'll be a man and euthanize myself
BANG!
…
…
…
He looks around and can still think; can still feel, can still hear.
He checks the magazine and there is not a bullet to fear.

YOU IDIOT. WHY CAN'T YOU DO ANYTHING RIGHT! The voice sneers
LOCK THE DOOR SO YOU CAN TRY AGAIN, YOU FAILURE!
He locks the door, and searches for a bullet
One bullet to end it

His Mom runs up and hits the door,
She screams that he is worth more.
Another voice screams at him; except this is voice roars
This loving voice tells him that he is his son; he is meant to soar

He is trying to resist, trying desperately to not relinquish
The voice that sneers, it will not allow him to choose
He breaks down and cries, the voice that sneers has been vanquished!
His mom breaks in the door. Whose son are you? Whose!
My love for you has not diminished.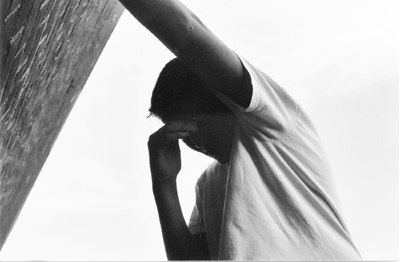 © Dillon O., Pompton Plains, NJ