Violet
May 9, 2012
I remember,
Grandma waking me up early
"You have a sister"
Morning cold
Flashing lights from ambulances.
Tiny face sleeping
Wrapped in yellow
Small as daddy's arm.
I remember,
Wham! Bang!
Walker hitting the doorframe
"We're home from school."
Fountain spray of hair
Chubby cupid face.
I remember
First day of school
Reading my "big girl books"
Intimidating the little boys
They hid behind napkins.
I remember,
Leaving for school,
Your head fitting under my chin.
When I come back,
I hope you haven't
Grown up.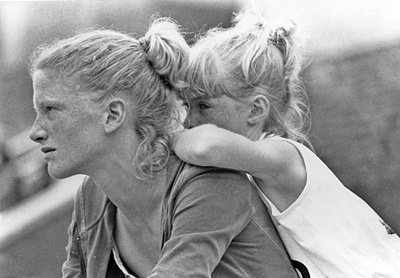 © Felicia F, Marlow, OK