UNWRITTEN
April 17, 2012
THERE WAS A TIME,
THERE WAS A GIRL
WHO SAW BEAUTY
IN THE DEEP
WHO SAW FIRE
BEFORE THE SPARKS
WHO SAW RAIN
BEFORE THE CLOUDS

SHE LOOKED AT THE HEAVENS
AND SIGHED
SHAKING HER HEAD
JUST AS A STORM
ROLLED IN
THUNDER BOOMING
RAIN POURING IN SHEETS

SHE RAISED HER FACE
UP TO THE SKY
HER CLOTHES
WET, HER FACE
BEADED WITH DROPS
OF WATER

AS I WATCHED HER
STAND OUTSIDE
AND WATCHED HER
MELT AWAY
THE FIRE WITHIN HER
DROWNING OUT
HER FLAMES ENGULFED
BY THE IMPENDING
TIDES IF RAIN

WAVES OF WORRY
ETCHED HER FACE
A FACE BEYOND HER YEARS
WISDOM CREASED
HER HOLLOW CHEEKS
TELLING STORIES
OF PAIN
AND MISERY

WHO IS THIS GIRL
YOU MAY ASK
WHO DOES SO LITTLE
KNOWS SO MUCH
WHO BURNS IN FLAMES
SOON CHOKED AND DROWNED
BY THE COMING
HURRICANE

HER SPIRIT
SORE AND WEAK
RISES
FAR ABOVE THE SKY
HER CRY AND QUESTION
"WHO AND WHY"
IS SENT
TO TRAVEL
ON A TIMELESS, ENDLESS
JOURNEY
TOWARDS THE
TWISTED PATH
OF THE ANSWER

LIKE RAIN,
IT SLIPS
THROUGH HER FINGERS
ONLY TO TOUCH
HER HAND
AND TO SLIP THROUGH
AGAIN

WILL HER STRUGGLE
NEVER CEASE?
WILL HER WORRY
NEVER END?
"BE PATIENT"
SAYS A VOICE
BUT I LOOK OUTSIDE
AND SEE
THE RAIN
WASHING AWAY
THE LAST SPARKS
OF A WILDFIRE
DESPERATE
AND HURT
I CALL OUT
"WHY?!"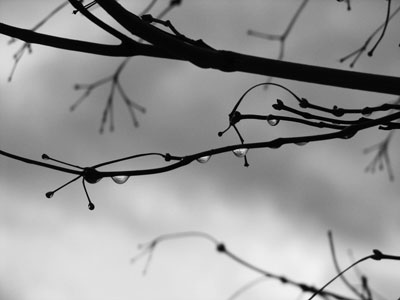 © Carly M., Hopedale, MA