Storm
March 21, 2012
The sun stretches its rays across the horizon, rising slowly to greet the world.
The dew on the grass sparkles as if thousands of stars have fallen to the earth.
A deer walks out of the woods and takes a deep breath, shivering in the early frost.
A rabbit crawls slowly out of its hole, eyes blurry with sleep.
An owl, filled with a small, unfortunate mouse settles on a tree branch and shuts its eyes.
A cloud, crawling slowly but surely, gathers above the forest and the meadow.
It darkens the sky, and separates the earth from the sun once again.
A sprinkle of rain, a flash of brilliant light streams across the sky for a fraction of a moment.
A downpour of rain, flashes and streams of white terrorizing the creatures below.
The deer cowers in a cove, too afraid to move.
The rabbit leaps back into its hole to warn its family to stay safe.
The owl opens his eyes wide and hoots with annoyance at the loud noises.
The cloud eventually drifts away, and all is silent.
The world slowly comes back into tune as the sun meets the horizon once again.
The deer slowly and cautiously steps into the meadow, hungry for a morning meal.
The cricket in the meadow gives a nervous chirp, and then hops away to eat its own breakfast.
The owl once more shuts his eyes, confident the world will let it rest.
The rabbit hops out with its family, frightened yet unharmed.
A rainbow lights the sky and shines in the morning light.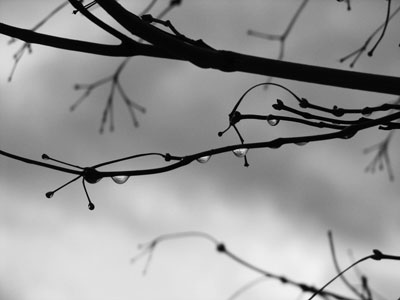 © Carly M., Hopedale, MA