Change of Color
January 31, 2012
The sky deepens,
the color of death
if it even has a color.
My mood seeming to
change the sky.

The flowers
droop their heads down,
as I stumble past them.
Carrying this dreadful feeling
with me.

Not many people
can soften up this
cold heart of stone
that I call mine.

Everything is grey,
but only in my eyhes.
My mind wishes for
something,
someone,
to briung light
into my life.
Color, if possible, too.

I never would've thought
that it would be you.
You show up
out of the blue.
The first color of the spectrum
that was shown to me.
Better than grey I suppose.

The bleak light,
shining through the
fictional window of life.

THe frosty covering
of my heart,
melting away
slowly.
Water trickling as if
the faucet was left on.
Drip.

Drip.


Drip.

Halfway thawed.
ROY G BIV,
now thrown into my life.
My world is full of color,
and I owe it all to you.

Color of death,
the ongoing greyness,
has been put behind me.
The beating heart of mine.
Cold.
Frosted.
Stone.
Unknown descriptions
in my life now.

Pure joy has fulfilled me.
Feelings never felt before,
now fill up my soul.
No more darkness,
suffering,
pain.
Only light surrounds me.
And it's all thanks to you.
It's all thanks to you.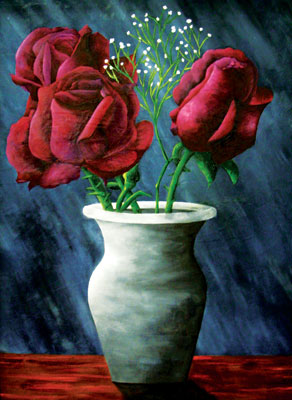 © Brandon S., LaFollette, TN