Or So I Thought
January 27, 2012
When I was a child, my father was always by my side.
Our life was perfect, a mother, father, and two sisters,
Or so I thought.
As I got older, things began to change.
Daddy drank and went off,
with us to wonder where he'd went.
He'd fight with mom and become so scary,
so angry...
I begged God to bring him back,
bring my old daddy back.
But it only progressed worse as I matured.
By 8, he moved out and I thought, "What now?"
I had hoped it would end at that.
He moved back in and it was normal,
or so I had hoped.
By 9, he was drinking again.
He wasn't the same father who would give me piggyback rides, or let me give him makeovers.
No, physically he was the same,
but he was the shell of what I knew.
For his last year he never once smiled.
No matter what I tried,
he just kept his angered scowl.
He hid his depression,
but still there was something awfully wrong.
He was sober for eighteen months,
and then he blew it.
We went on vacation and he stayed home,
us not sure what we'd come home to.
When we pulled into the driveway,
I knew instantly that something was wrong.
I ran up the stairs and you can only guess what I found.
A note from my father,
and with what was said,
I knew he'd be gone.
Two days after,
we received the call.
My father was found in a hotel,
on his knees as if praying,
and he was gone.
It's been more that five years since he passed,
but my father is always with me,
from now until the end of my days.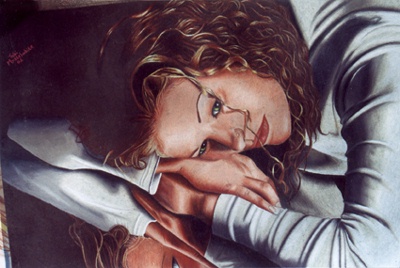 © Tabitha M., Kannapolis, NC