Fall Funeral Protest
December 9, 2011
If only it were
Colder

The protests
Would do nothing
But echo from
Empty branches

The trees would stay
Desolate, cold
Unresponsive to
Such noise
After their sun
Has fallen

Voices should be
Sweet and consoling
But are sharp and
Cold, merciless, vindictive

They sound
Nothing like
Violin sobs in
The autumn wind today.

If only it were
Colder

Then the body
Lowered down
May not have
Endured such
Fickle phrases

The mourning
Hands would place
The folded flag
Over the casket
Slowly and sharpen
The softened creases
To add some
Vehemence to fresh
Tears which
Are already stale.

If only it were
Colder

The paint on the
Heartless signs
Would have frozen
Instead of drying
In colors so
Bold and so bright
On a gorgeous autumn day.

If only it were
Colder

The hurricane
Of shouting from
The North would
Have driven the
Shouters
South,
Back home.

If only it were
Colder

The child
Watching his
Family taking shovels
And adding earth to
Earth,
Watching his
Father's body
Being folded into
The dirt
And hearing his
Daddy's
Name turn to dirt,
In voice so close
Echoes so far,
Could have held
Some quiet
Warmth
To go to sleep that night.

If only it were
Colder

The people with the
Church would
Go to church to
Find their fire
Instead of makin
Their warmth
By having a boy stand over
A burning
American
Flag,
Instead of adding
Fire to something
Holy that should
Never be
Warmed, heated, burned.

If only it were
Colder

Then a soldier
Could serve, die and
Rest in silence
Without flights
Of devils singing
Him to his eternal
Bed.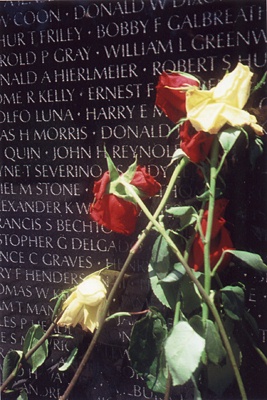 © Justin R., Angola, IN