The Ruination of a Pretty Morning
November 5, 2011
The sky brightens as morning approaches,
The stars fade slowly out of sight,
And we are unwillingly awoken.
Watch-hands frozen in an instance preserve,
The promising clarity of last night,
But the shrinking shadows fill time's lapse.
Our inevitable seperation,
Prolonged by an idealistic fear of blight,
Hastens ans can be delayed no longer.
A fruitless search for unstrained emotion,
And our hopes crumble in the day's brightness.
With tired eyes and hearts, we quickly part.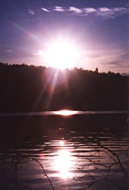 © Laurie T., Hopkinton, MA