The Host with the Most
October 17, 2011
"Have you the oxygen?"
"No, have you?"

These, my friends,
Were the first words
Spoken at
The International Space
Conference for Allied Planets.

The words issued from the
Mouth of the conference
Director
Who,
In a show of hubris in
Excess,

Only felt it necessary to
Arrive a mere
Five minutes
Before the guests.

Five minutes to go,
Only five minutes.

Then there would be
Two-hundred fifty
People besides.

There was enough oxygen
To last the
Organizers
The two days it would have taken
To recieve rescue.
And only that much.

Still, they refused to cancel.

One supposes they could
Have called the delegates.

After all,
Not everyone hesitates
To pack emergency
Supplies.

But they did
Nothing.

When the guests arrived,
They locked the doors.
Outside were a geat many people.

mayors, ministers, dignitaries,
Even a Queen.

Those on the inside
Looked out.
Those on the out. . .

They fell,
One by one,
Into deep,
Eternal,
Sleep,

The organizers
Sat there.
They sat there and watched,

Little lights go out,
One
By
One.

Each participant disavowing
The organizers of
Any fault.

Statements such as
"It's not your fault,"
"I've no regrets"
and "I should have brought
The backup oxygen"
Were etched upon
Silvery moribund breaths.

The Queen,
She was last to go.
She had brought spare oxygen.
Though, as time will tell,
Not enough.

She saw those around her,
A floating sea of death.
Spacesuits,
Filled with
Slowly rotting,
Empty
Soulless
Flesh.

Her words were different,
They went something like this:
"You'd think a host to have more
Courtesy."

Even in the vaccuum of space,
A wreched hole from which
Sound cannot escape,
Her dying words,
They echoed across time.

The words of a Queen,
Beloved,
Now lost.
Forced out by a proud petitioner,
One who lived a long life,

As if leeched from all those
Spacesuits,
Floating in space,
Still to this day.

They come to our planets
Sometimes.
A solemn reminder,
Of the one that got away.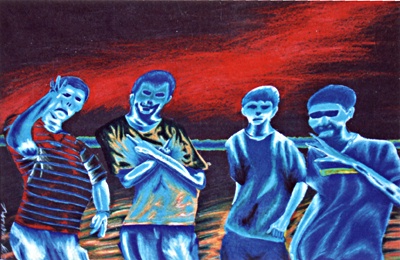 © Troy W., Kannapolis, NC