The Siren
August 16, 2011
Dancing and whirling like a dervish,
Twirling through the halls, tantalizingly
out
of
reach.

The little girl, she leads you on...
Through those winding,
never-ending
corridors.

She smiles silently, then not-so-silently
as song bursts from her
lips. That melody...
You know it.

That crooning,
So familiar.
It echoes through the passage,
invisibly bouncing off
the arches.

Look closely.
The arches...
So familiar.
Gothic-
Yes that is what you'd call them.
So familiar... You are so close
to remembering.

The girl, she keeps singing
that melody.
That sweet melody...
It takes you back
to
what
matters
most.

The music.
Haunts you.

Shivers.
Down your spine.

Closed eyes.

The song.
Bittersweet.

That voice.
High.
Young.

Old.
Old?

No.
not possible.

Come closer.
No!
Stay away!
Come closer...

The girl stands there.
Innocent.
Her hair is the color of
platinum.
Silver shining like the moon.

A burbling giggle.
She covers her mouth, but her eyes...
So familiar.
You know those eyes.
So sure of it.

She contemplates you,
hand still covering mouth.
Head tilts.
Her hand comes away.
Smiles.
Laughs.
Sings.

She twirls away, whirling.
Like a dervish.
Tantalizingly out of reach.

Still singing.
Follow.
Follow the melody...

You follow her. Her song.
It echoes throughout.
It permeates you.
Changes you.

Follow.
Think, but do not act.

Do not remember.

Siren.
Whirling. Dancing through the halls.
Like a dervish?
Tantalizingly out of reach.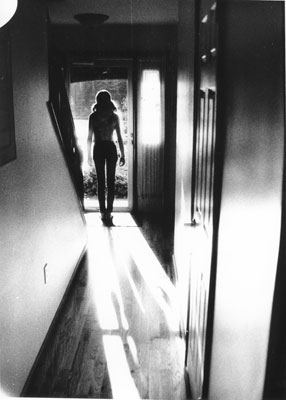 © Mike V., Morgantown, PA