Upon Leaving
July 5, 2011
A Bedewed scent stained my mouth from my sweet lover as I flew away
And her beautiful brown eyes are scorched in my mind they turn my world from gray.
The soft serenade sweet senses jump and bathe against my skin to yours
Such a joy was felt but it was conflicted as I disarray to place of a long lost sojourn
The time we spent was the happiest any emotion can feel
No to do anything but kiss our love to seal.
I lay in your bodies lake with no intents to depart
For you are the only one who can drive this crazy heart
Our distance's desires were met but we want so much more
And I am forced to leave feel my soul cry full-sore.
What is it that makes our song so lovely?
The enjoyment of the notes? Or the mixture with your face to see?
I am anxious to speak my feelings to you
But how so when I am apart from my senses' honey dew?
The feelings are no other sensations then to bathe in your near holy radiance
So instead I feel my neck throbs with tears the heart pounds inside as a new alliance
The amount I feel of the way we dance leads question if it's dream or real?
For its not one but both my mind and heart you steal.
Just as these artificial lights gleam and shimmers as if heavenly new,
But the only thing that is such is my angel, it's you.
Although our lips do no longer touch,
The workings of my body have left like a downward clutch.
Remember together, as long as we are,
Let the rain of it fill our hearts' jar.
Let the overflow never stop but cover us in a new desire.
For our true love to grow even though its never a straight road but one of silky fire.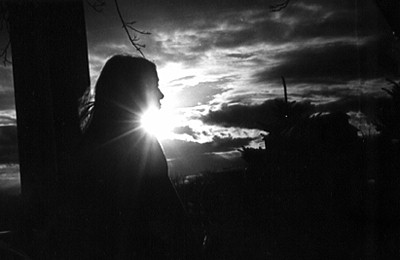 © Elizabeth G., Marblehead, MA