BETTER LEFT UNTITLED
June 29, 2011
IF YOU EVER NEED TO VENT, HE SAID, YOU CAN DO SO THROUGH ME. AND HAVE NO FEAR, I'LL ALWAYS BE HERE. MY NAME IS POETRY.

SO WHAT YOUR SAYIN' IS THAT YOU'LL BE HERE NO MATTER WHAT I FACE, AND WHEN MY FRIENDS HAVE ALL DESERTED ME YOU CAN TAKE TIHER PLACE? AND CAN I USE YOU DEAR POETRY TO FILL MY HEART CAUSE NOW, IT'S JUST AN EMPTY SPACE.

I AM THE GIFT THAT KEEPS ON GIVING THE RIVER EVER FLOWING I CREEP AROUND INSIDE YOUR MIND WITHOUT YOU EVEN KNOWING THE BIGGEST APPLE ON YOUR TREE MAINTAINING YOU STABILLITY I'M THAT VOICE INSIDE YOUR HEAD THAT SAUS "DON'T DESPAIR, WRITE IT DOWN INSTEAD... AND I MEANT IT WHEN I SAID... YOU CAN ALWAYS CONFIDE IN ME.

AT LAST I SEE THE LIGHT THOUGH IT WAS ALWAYS DIMLY SHINING YOUR MY TRANQUILLITY AND WHEN THE CLOUDS ROLL IN YOU'LL BE MY SILVER LINING AND YOU'LL HEPL ME THROUGH THIS WINDING... ROAD THAT IS MY LIFE THROUGH ALL THE TERROR AND ALL THE STRIFE I'LL MAKE IT CLEAR FOR ALL TO SEE IF THERE'S NO YOU THEN THERE'S NO ME BECAUSE I BREATHE YOU SWEET POETRY.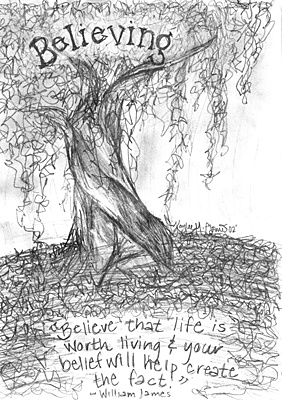 © Kaylee E., Coraopolis, PA