Apparition at Midnight
May 31, 2011
The moon howls my name
as i hover through the midnight air.
Its silk voice soothes my phantom pains.
Pulsating like a freshly grown scab
I clench my chest and holler.
The streetlights illuminate
the flat concrete,
and i alone ruminate,
of things unknown.
The moon howls my name.
The ebony mantle soon descends,
while a new cloak of dawn arises.
A wisp of smoke dangles
against the golden sky.
Sadly, I glide back
Six-feet under
Neglected
Forgotten
Only the moon howls my name.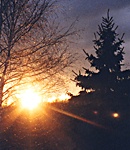 © Christy S., Germantown, NY