Undefeated
April 3, 2011
The crisp air
Grabbing at my skin
Increasing my endurance
As I claw a path through my journey
Of determination

The distance reveals another being
Much like myself.
The sight urges me to accelerate.
I turn his steps into history
With a surplus of effort
As my my last few rotations
Of my anchor-weighed legs
Allow me to pass the finish line
Undefeated.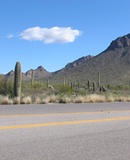 © Aleksandra K., Tucson, AZ