The Morning Skies
March 7, 2011
Dreams of running,
Running...
Running...
Running...
Never stopping.
I jerk to life,
Awake,
Aware,
Alive.

The sun is barely peaking
Over the sill of my window
So many colors.
Purple...
Angry,
Like the bruises on my heart
Red...
Love,
Like what I used to know
Violet...
Warm,
Like his arms wrapped around me
Kisses like feathers
Drown my memories

Deep navy blue...
Strength,
Deeply wound around my heart

Wispy clouds freckle the horizon

Like drifting cotton candy
The skies stare at me
Demanding...
Condemning...
They know my lies...
They know my sadness,
They know my pain...

It's up there,
Painted for all to see...
Can I bear my heart like this?

"Step by step
Heart to heart
Won't you come out and play with
me?
Left, right, left
We all fall down...
Like toy soldiers!"

Voices describe everything inside.
The addiction rattles through me
Hallowly demanding
Punishing me

I can see it,
I'm falling
I'm drowning...
I'm dying...

I open my eyes,
Awake...
Aware...
Alive...

Dreams of early morning skies
Still fresh in my mind.
Roll over,
The pain rattling through me
Hallow addictions in my blood

Where's the reality
When all there is left is night?
When all there is left to lose is
light?
When there are only dreams?
Which is the reality
In dream reality?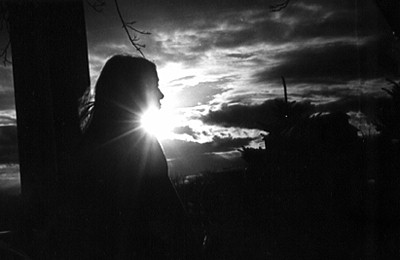 © Elizabeth G., Marblehead, MA