Winter
January 11, 2011
Hand in hand
Mitten in glove
They walk.
Snowball fights
Children laughing
Caroling
Building snowmen.
Parents shovel snow
Hang wreaths
String lights
Stand on porches
Hot chocolate in hand.
They see nothing.
She wears two jackets:
His
Her own.
Still
The cold seeps in.
He walks bravely beside her,
Cheeks growing red
Breath becoming visible,
Wondering if she's warm.
With a free hand
She tugs at his hat.
Hesitantly.
She wonders how he'll react.
Eternity.
He looks down.
Smiles.
Unsure.
She drops her eyes to the ground
Cheeks turning red
Not from the cold.
The two freeze.
Stop.
Home.
Wordlessly,
He releases her hand.
She pauses, then turns to go.
He wants to speak
Has to.
He reaches out
Opens his mouth..
And remains silent.
She opens the door
Slow
As if she's
Waiting.
"I..I'm..I'm sorry!"
Echo.
She turns
Smiles.
A sad one this time.
He walks toward her.
She pulls him to her.
And they stand.
Still
It snows.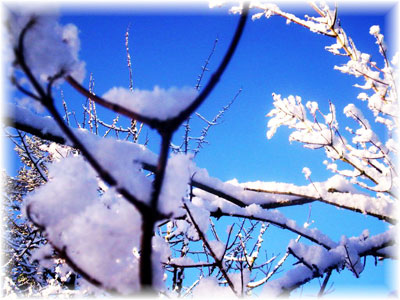 © Anna K., Portland, OR