Wrecked
December 30, 2010
PT.1
Broken

Crack
Split
Torn Open
Somethings you can't heal.
Somethings you don't have a chance to.
Too hard, too much pain, fore those of us, to live and deal.
PT.2
Wasted

My spirit's been taken,
I'm just a shadow standing.
How did I get here?
Whatever happened to me?
I can't say I know.
I can't say I don't.
The pain is endless.
Spliting me two-and-two.
Lights flicker before me,
Each telling me what I wouldn't dream.
The shadows crawling to me
while the light turn their backs from me.
The feel of blackness, like my soul has left me, is choking through my throat, drowning away my tears and all my screams you'll never hear!
PT.3
Fired Up

Burning...Aching...Palms are shaking.
There's a storm roaring inside of me.
I feel like screaming till the breath leaves my very lungs.
I wish I could tell them what's got me
Burning...Aching...palms are shaking...what's got me fired up.
PT.4
Vanish
Beat
Bend
Rip
Out of thin air.
Washed away from my hands.
I want nothing to do, but
whipe away like quick sand.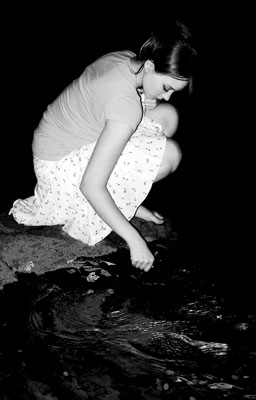 © Michelle B., Blairsville, GA