Beauty and the Beast
October 29, 2010
Who am I?
Am I the beauty or the beast?
Am I beautiful on the outside
and hideous inside my soul?
My face may show innocence but my mind is rotted with darkness?
Perhaps I am disgusting on the outside but inside I may be beautiful.
Or maybe I am weed but inside I'm an innocent rose.
So who am I?
The beauty or the beast?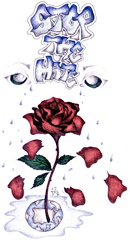 © Diana G., Phoenix, AZ