Slipping Away
October 21, 2010
The chirping of birds can be heard.
They are songs on repeat, never ending.
The hot, yellow sun peeks through my blinds,
intruding upon my sleep like a spotlight searching
to open my weary eyes.

My clock reads 9:31.

Lawnmowers growl up and down the street.
Garage doors grumble as people leave.

I drift back off to sleep, minutes of the hour
slowly





slipping





away.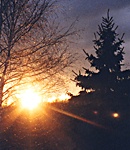 © Christy S., Germantown, NY