Be Mine For Always (Inspired By The Notebook)
September 16, 2010
What'll become of my spirit?
What'll become of my soul?
Without you around,
Without your hand to hold?

Will I shiver?
Will I shine?
Without your eyes
Staring into mine?

Are we destined to be?
Are we meant to last forever?
If it was up to me,
I wouldn't let you go…Ever.

You'd be mine for always.
Never would we part.
We'd stay together for eternity.
I'd forever be in your arms and in your heart.

Your laugh would make me smile
On our wedding day
And with you by my side
The days would quickly pass away.

And when we're old and have grey hair
I'll still be smiling then
As long as you're still next to me
And we're remembering "way back when."

And if you should pass away,
And my eyes become blind from crying.
I'll go through each day in memory of you
And live as if I'm dying.


My soul's last night on earth
Would be a happy memory
Because your face in my dreams
Would be the last thing that I see.

This would be our life's story
If you stayed here by my side
And if, by chance, our attempts fail at least we'll know we tried."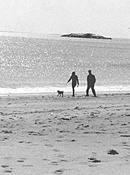 © Megan S., Marblehead, MA