butterflies
May 25, 2010
That feeling in my tummy,
Like butterflies flying around.

Every time I see you, the butterflies take flight
Every time I hold your hand... They must multiply.

I can't even imagine what they're doing
When your lips gently push against mine.

But now that you've left me,
The butterflies have died.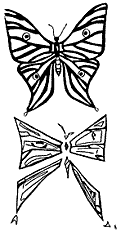 © Megan G., Aberdeen, SD