I Promise
April 24, 2010
"So long as the earth endures,
Seedtime and harvest,
Cold and heat,
Summer and winter,
Day and night
Shall not cease."
(Gen. 8:22)

A soft reflection
In a puddle–
A bent band in the sky
Of sunbeams shattered
By my tears that made
Growls and roars and barks
Become garbled guttering
In water clogged throats.


Clockwork of planets

Of suns, and stars

Spinning, spinning,

Dizzyingly free

On a track that goes

'Round and 'round.

Up from the mirror
Of the soaked soil,
I see my loneliness and regret
As the surface ripples with sound:
The mews and coos
Of those new
To a world wiped clean-
Washed to innocence in moist air.


Sowing and reaping

Of barley and beans

The seasons of the earth

Dizzyingly free

will circle and cycle

I will not lay a hand.

Through the looking glass
Of man-in-my-image
I see the dark serpent,
From first sight of sun,
Strangling his soul–
Mixed with rash fury–him and Me.
But, to flood the world in grief,
Who am I to judge?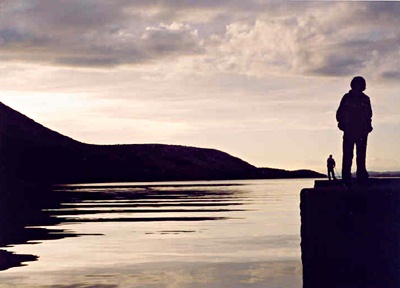 © Julia K., Nagykovacsi, Hungary