One Grey Eye Lash
April 29, 2010
There's one grey eye lash on her left eye,

it's been there since she was 12 and

not too many people notice it.

The rest of her eye lashes are always black,

she doesn't need mascara, her mother tells her

over and over again.

One grey eye lash

since she learned about cancer -

love decaying slowly from the inside out.

She kept a necklace around her neck,

a locket with nothing inside

but what she wished for

on every minute of every day,

on every birthday, and on every grayed dandelion; the neighbors

down the street

have word from the doctors from the next town,

that their son's not going to make it;

hasn't had a chance to finish high school, or

have his first serious girlfriend, or

move out to his own apartment and

he's not going to college.

saw him out late last night, walking with some friends,

struggling to pretend that this is their good time,

and time and time again -

that Mikey's not going anywhere yet.

I wash my face, vigorously around my eyes,

when I remove the wash cloth,

there's one grey eye lash on my cheek,

so I wish on it, brush it off, and

I know Mikey had wishes too.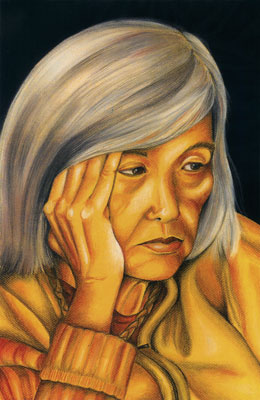 © Kaitlin C., Forest Hills, NY