The Woods
April 15, 2010
The chilly air presses
Up against my
Body.
I shiver so hard
Someone might think
I'm having a
Seizures.

As I slowly walk the
Leaves below my bare feet
Break.
Crunch.
Crunch.
Crunch.
Every step feels laborious,
I'm so tired.

I hear a hoot
Of an owl.
I jump.
I know I'm
Alone,
I can't help to feel
Someone's
Watching
Me.

I get nervous,
So
I
Run.
I have nowhere to go,
But I
Run.

The next thing I know
I'm on the
Ground.
Every breath hurts.
Every movement hurts.
I lay motionless,
Everything is so
Still,
So
Quiet,

The ground is so soft.
It smells like rain,
Wet and damp.

And then the
Crunching of the
Leaves.
It starts off faraway,
Then,
Closer.

I try to get up,
I'm stuck.
I can't move my right leg.
I frantically search,
Anything
To pull me
Out.

The noise is so close.
I feel the vibrations
In the ground.
It feels as if the
Earth is
Being gently
Shaken.

There is nothing to grab.
I'm
Stuck.
It feels like
Razors
Clamping down on my leg

I hear heavy breathing
Above me.
I lay there.

The darkness,
Engulfs
Me.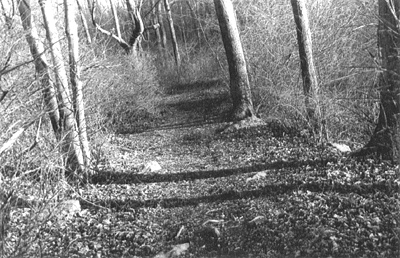 © Nicole N., Wilton, CT