Forever Free
March 5, 2010
The island may be quiet,
raining tears of empty love.
I may be gone,
in heaven's dreams,
sailing somewhere way above.
Those days you seem to miss me,
where the ocean looks too grey,
look at the sky;
where I lie,
and the beach;
where my heart lays.
My magical warmth blesses you,
though my statue stands clear.
My soul still holds my laughter,
but the island still holds my fears.
I'm free forever from being anxious,
I'm free forever from being scared.
I'm free above an island...
Just wanted to let you know I'm here.
Remember me for how courageous,
brave and thoughtful I have been.
Remember the times where we've smiled,
and I've dusted adulthood to kin.
My spirit will dance
the cobblestone roads,
the white picket fences,
the pink little rose.
I will never leave you,
I promise you that.
Now, don't forget to write me back.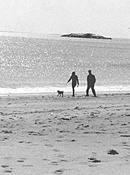 © Megan S., Marblehead, MA