DON'T LET GO
February 28, 2010
Carry on, don't let go
Falling is not losing
Get up and try again
don't give up
Keep moving forward and let life take its corse.
Many lose their hope,
Many forgethow good things once were.
But many are them and
I am one.
I'm not giving up,
I'm not backing down,
I'm not losing,
I'm going to keep moving forward
Cause I know life goes on and life is long.
No matter what anyone says my life is with you and I will go on with you by my side.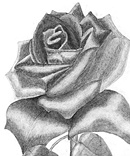 © Nghi L., Phoenix, AZ