6:35 to 11:07
January 19, 2010
Please finish you tap on the palm of my fluorescent hair
Where my red medicine ball is rolling down the hall
Leading to the brass, tin lock guarding its red bedroom
Where if you can't do your medieval history homework
A tutor will arrive in a firework,
Why isn't my brother in his linen sheets?
Rather than screaming on his feet
As loud as the vibration of a phone turning on
Finger food is so much easier
Than clicking the button of power on your scratched black Macbook
And no for the last time I don't want to hear your essay
On Atlantic salt trade or
Get you a box of tissues
Because I have French pg. 32,
Math a, b pg. 45,
And a history essay tomorrow.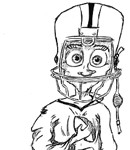 © Steve B., Hull, MA