[Untitled]
December 16, 2009
1.
Amidst the coldness of covers
2.
I toss and turn in fright.
3.
Of a nightmare I dream,
4.
Your face plain in sight.
5.
Shaking as I scream,
6.
I wonder if I'll ever wake from this hell.
7.
The lies that you tell.
8.
The world that believes you.
9.
The pleasure you receive from destroying our lives,
10.
The millions of wives,
11.
I see Hell in your eyes!
12.
Dangling by a thread,
13.
You raise me above your head,
14.
This nightmare I dream,
15.
But you muffle my screams.
16.
Striking at me a dagger to my throat,
17.
To pierce my heart,
18.
This being the start
19.
Of something so unreal, that it was in fact,
20.
Too good to be true: the devil was you.
21.
Creeping into my every thought
22.
Your trust that I bought,
23.
Chokes me inside blocking my air,
24.
Blocking my life.
25.
The movements of your hands burn all like fire.
26.
Mistaking right from wrong,
27.
you sing a killjoy song,
28.
and prance around me like a jester;
29.
Jabbing a spear at my sides.
30.
As the crimson river flows from me,
31.
You drink plenty of it.
32.
To the point where all within my sight is red.
33.
Red, red, red, like the morning sun
34.
That wakens me, finally.
35.
Gasping for air, sitting in sweat,
36.
I look around me, the walls,
37.
The sheets, the iced windows.
38.
The breathe I see as I exhale,
39.
All a part of your scheme
40.
To pry my joy away, bottle it,
41.
And smash it against my head.
42.
My head: the excuse of all this.
43.
My head: the confusing thoughts that bubble within,
44.
Wondering what truly is myth and reality in a pool of sin.
45.
My head, my head, my head...the ache of it all.
46.
A slingshot and stone in hand
47.
Ready to fight you off another night
48.
Never to stop until I see you fall.
49.
Fall…fall…fall…
50.
Splatter. Against the pavement wall.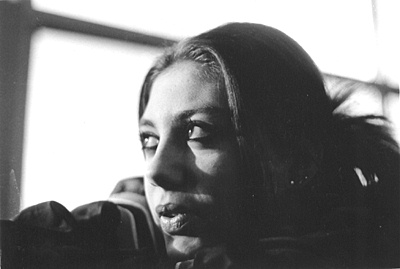 © Michael C., N. Massapequa, NY