Clutch (Sixty-Seven)
November 26, 2009
At the field,
Scarred Sixty Seven
Stands center stage.
Lacrosse stick grasped,
Ready to beat.

0:29 Remain:
Bruised Sixty Seven reaches,
She receives,

and runs.
But she shouldn't be at the game
At all.

0:17 On the Clock:
Cut Sixty Seven calls,

catches, cradles,
She's clutch.
But Daddy told her
Not to go.

0:06 Seconds:
Scabbed Sixty Seven sprints,

slides, and shoots.

5 Seconds Gone:

a goal.
Her disobedience,

avenged.


Back at home,
Scared Sixty Seven
Shivers.
Lacrosse stick clutched,
Ready to be beaten.

Among her teammates,
Sixty Seven is a savior.
Alone with her Daddy,
Who will save her?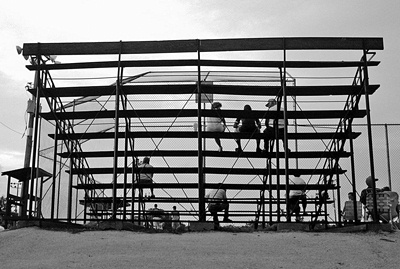 © Katie C., El Dorado Springs, MO