The Bell
November 9, 2009
The first bell floods the room with a "BOOOP!"
Every student picks up their books and walks out of the comfort of homeroom and into the hellish hallway.
Faces,
Unfriendly.
Apologies, running through my mind.
"Sorry, I'm not skinny enough."
"Sorry, didn't mean to bump into you."
"Sorry, I looked an upperclassman in the eye."
Everyone, SPEEDING.
Trying to get to class before the bell rings.
Snipits of conversation over heard.
"John said that.."
"bought pot from.."
"Got a D on my biology.."
"Ha. Ha. What a s***.."
Blurs of color, hair, skin, perfume, textbooks, jewelry, coffee, voices, b****es
The occasional friend.
So much brighter than the
Strange,
foreboding ,
old,
faces of strangers.
"Hey!"
No time to stop.
Already late.
But…
My friends,
Are there somewhere.
To protect me?
From annoying,
Scary,
Upperclassman.
Finally,
Arrive at English.
Grab the handle.
"BOOOP!"
Just

In


Time



!
Sigh.
Analyzing Poetry.
Damn.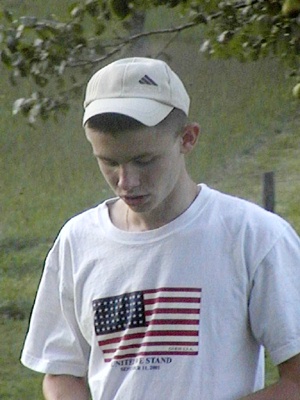 © Artem S., Candler, NC