Where the Pages Take Me
October 29, 2009
I'm a cat.
I am sleek.
I chase my prey,
I feel the wild energy
Flowing through me.

Flip

I am a witch,
Walking through stone halls,
Avoiding tricky staircases
And nosey paintings.

Flip

I am in a boat
In a river
Racing toward certain doom.

Flip

I am a fairy.
I dance a reel
In a ballroom filled with light.

Flip

I am wind.

Flip

Imprisoned in a tower.

Flip

Pulling a sled.

Flip

Flying away,
Catching a thermal,
Spreading my wings.
The world
Is not small
Beneath me.
It is big.
Very big.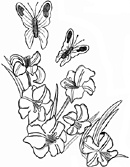 © Leah-Marie D., Peoria, AZ