Swallowed
October 31, 2009
I walk slowly down the shaded hall
Carefully measuring each step with the shadows
One

Two


Jump
The pictures laugh at my comic dance
Protected by their own tainted glass
I shake it off, my signature twitch
My nervous smile
My shifting eyes

The blackness grows
Threatening to swallow me whole
Unless I can find a way
To swallow it, wholly and completely
The sun moves mercilessly across the sky
I twitch

The hallway gets longer
I count
Three

Four


Jump
The pictures fade into their backgrounds
Into their kitchens and sunny gardens
Their plainly drawn out lives
It's not funny anymore
I envy them

Where am I going?
I'm not quite sure
Five

Six


Jump
I try to melt into the cracks
But I am still too large for the floorboards
Too small for the shadows
A precarious position.

I fall
Thump

Thump


Thump
Down and down and down
Until I can hardly see
The lines that divide
The light and darkness
Life and death
Sanity and madness
I smile, nervously of course
But no one sees

I feel like dying
I feel like I am dying
Going

Going


Gone
And just like that
I'm wiped away
The shadows regress
The pictures emerge from their scenes
The sun rises again.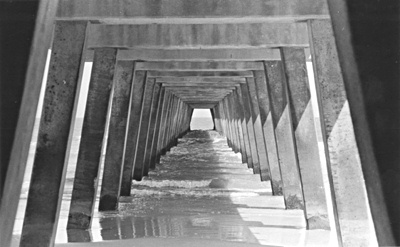 © Megan S., Marblehead, MA