We Are All Haunted
October 10, 2009
WE ARE ALL HAUNTED.
By your first kiss with the class player who only knows your name as a scratch on his resume.
By the first time your boyfriend hits you,
the drunken promises it won't happen again...
Until it does.
By the time you get high,
and got too far,
the rumors that then swirl,
and the day you spend all of 5th period locked in a bathroom stall,
crying.
WE ARE ALL HAUNTED.
By the time you betray your best friend,
and lose them forever.
By the time you open up to someone,
only to have them throw it all back in your face.
By the time your mom starts crying about a fight she had with your dad,
the sound that echoes into your room at night.
WE ARE ALL HAUNTED.
By the time that life begins to be too much.
When your boyfriend's left you,
and your best friend's slapped you.
and you want a way out,
the way you've always wanted it to be.
You climb onto the tallest peak of your suburban home and finally realize,
you just can't fly.
By the time you realize you got what you wanted and you ask yourself,
"Are you happy now?"
And someone in the dark whispers,
"No..."
WE ARE ALL HAUNTED.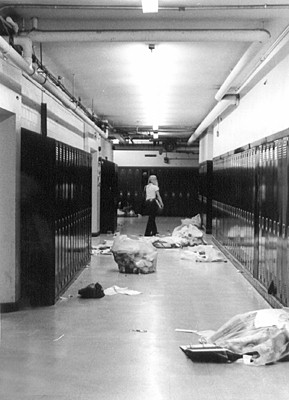 © Halsey S., Marblehead, MA