GREEN
October 4, 2009
like a broken toy long forgotten under the bed
i lie upon the floor.
feeling the inner twists of my soul
the competition working it's way deep into my veins
the jealousragingpossesive
drive
pushing my thoughts out of my ears,
my eyes,
my nose,
my mouth,
myself.
taking control of every possible nerve
and letting the time shift,
to a dangerous

tick
tick
tick

hold back.
pause.
rethink.
evaporate into the bright sunlight.
fightfightfight,
HURT.
consumes the brain,
eats away at the heart like
death-bearing cancer
and brings us to our knees,
holding on to the edge of
kindness
with white knuckled ferocity.
till the last
pin&needle
hit the marble floor,
striking like the words of a malicious broken fool.
echoing into the deepest depths of the darkest bits of soul

and breaking all hell free.

letting loose all demons
and hiddensecretscary
words,
that scream to the edge of the sky
and shatter the very stars of heaven.
letting the cold truth
hit the marble floor,
like the words of a malicious broken fool.
until only the soft sounds of echoes
can be heard across the gaping emptiness

tick
tick
boom.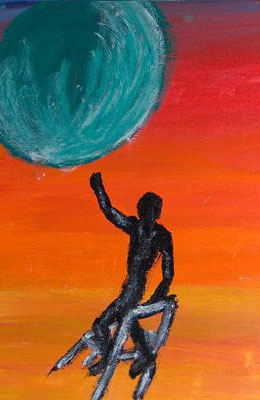 © Maegan F., Harrisburg, NC