Mrs. Elayne Across the Street
October 2, 2009
There's an old lady who lives across the street,
She sits on her porch and sips hot tea,
Not too bitter, nor too sweet,
Made by her maid before she leaves,
Since this old lady cannot see.
Her name is Elayne Montgomery,
And they say she cried herself blind.
She cried, cried, cried
Until her eyes dried.
They say she used to be beautiful,
She used to have gold hair that shimmered
As if someone dipped it in sunshine,
She had eyes as blue as the sea,
But with those eyes,
She can no longer see.
Now Elayne has a puff of cotton on her head for hair,
A fuzz mustache, droopy earlobes, and skin that's pale,
Skeleton fingers, lost yearning eyes,
And eyebrows traced in crookedly.
Elayne used to be Miss Mississippi 1966,
But then she had a car accident,
And her beauty was wrecked.
She's now between the ages of seventy and death,
As she's taking her last breaths,
She wishes she were more clever,
'Cause beauty like that doesn't last forever.
And so Elayne across the street,
Cries because she feels she's been robbed,
By herself.
She feels she was murdered
By herself.
She feels she's been corrupted
By herself.
She wants to travel beyond her porch,
But Elayne can't move.
She wants to see beauty,
Other than hers that she used to know.
She cries because she did nothing with life,
And will go to her grave,
Without doing what she most craves,
And Elayne,
Who spent her life walking runways,
Who did not do much more,
Who cried herself blind,
Cried, cried, cried,
Until she died,
On her porch across the street,
While sipping her hot tea.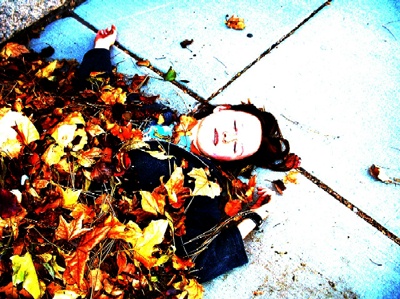 © Shea D., Albuquerque, NM