Holly Keith
October 1, 2009
I never knew what it was like to have a friend so dear
Someone I know would always be near.
But, I found her when I least expected.
Something no one could have ever detected.
She makes me smile.
When I all I want to do is cry.
And hope and pray to die.
I love her so much.
A love i never knew existed.
A love that can't ever be resisted.
I just want you to know that im so thankful
for all the things you've done for me
and all the times you told me I could be
way more than what I am today.
for this I thank god and pray
that you'll have the best in life
everything you deserve and more.
You've picked me up off the floor
way more than anyone can ever imagine.
So at least now I know
I have somebody to face this horrible life with
And, I want you to know I'll be there till the end of times
spilling my heart with these little rhymes.
Your the best friend anyone could ever ask for
i Could never ask for more.
So please know your always in my heart
and we'll never be miles apart.
You'll be there with me everywhere I go
And this i truly know
because know one has ever been here for me like you.
And I'll always be here for you to.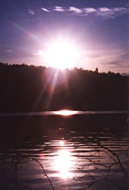 © Laurie T., Hopkinton, MA