Sunset Of Time
January 8, 2010
As I squeeze all of my hurt and frustration into a fist,
grains of sand fall through the small spaces between my fingers.
Isn't that what happens when you hold on too tightly?
All the things that have a meaning in your life slowly slips away,
and suddenly desperation grasps onto the last second that lingers.
People, places and feelings all have an experation date,
yet its hard for me to accept change.
I throw the remaining sand downward on the shore,
and gaze ahead into the sunset.
I desire people that don't have a permanence in my life,
but the people i forget about that never leave, I neglect.
I let out a soft sigh,
wishing the breeze could blow all of my..
My breath away and stop the beating of my heart.
So i can finally be with you,
where ever you are.
We won't have to worry about the ocean anymore,
Because there won't be any restrictions, boundries and limitations.
And one day you may return to this very ocean shore,
as you did when you were a child.
"Where have you gone?" you'll wonder.
Not knowing that your looking at me,
I'll smile and young colors of purple and yellow will fill the sky close to me.
As tears well up in your forever brown eyes you notice!
Then you'll say "I've missed you much, I love you beautiful"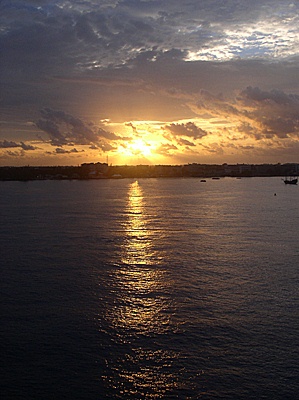 © Rebecca Y., Los Angeles, CA