The Verses of My Universe
April 4, 2009
YOUR ARE STiLL CONSTATNLY ON MY MiND.
YOU CLOUD MY THOUGHTS iN ALL THE SPARE TiME iT FiNDS.
SLOWLY i DRiFT iNTO MY UNiVERSE.
WHERE i'M HAPPILY TRAPPED CREATiNG THE NEXT VERSE.

FLOATiNG FREELY EXPLORiNG UNEXPLORED TERRiTORY.
FEELiNG AND EXPERiENCiNG ALL MY WORLD'S GLORY.
CONTEMPLATiNG AND REViEWiNG PAST ADVENTURES WE'VE SHARED.
REMEMBERiNG RANDOM TiMES i WAS SCARED.
SCARED TO ATTEMPT SOMETHiNG NEW.
TO GO THROUGH THiNGS i HAD NEVER BEEN THROUGH.

WiTH YOU i HAVE BECOME BRAVE.
AND i AM GRATEFUL i HAVE SUCH MEMORiES TO SAVE.
READY TO FiLL DESiRES FOR THiNGS i CRAVE.

THE VERSES OF MY UNiVERSE EXPRESS THE WORDS OF MY HEART.
THE WORDSTHAT EXPRESS WHAT i'VE FELT FROM THE START.
THE VERSES OF MY UNiVERSE CALMLY STATE WHAT MY SOUL iS SCREAMiNG.
THE VERSES THAT BRiEFLY REVEAL THE REASONS i'M ALWAYS BEAMiNG.
BEAMiNG LIKE A RAY OF SUNSHiNE ON FLORiDA'S BRiGHTEST DAY.
BEAMiNG SOLELY BECAUSE YOU NEVER RUN OUT OF THE RiGHT THiNGS TO SAY.

MY UNiVERSE iS GiFT-WRAPPED iN FLESH.
ANXiOUS TO BE UNWRAPPED AND PRESENT REALiTY WiTH SOMETHiNG FRESH.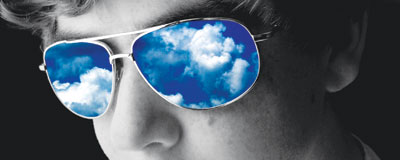 © Joseph B., Mesquite, TX