Our heart
March 22, 2009
We look in each other's eyes

Our hearts race to the sun
Love lasts and love dies

Will you accept it or will you run?

At the world I was livid

He was depressed and deprived
Our memories are vivid

He makes me feel so alive.

We hear music and dance

Our spirits intertwined
Our souls fill with romance

I am his and he is mine.

So together we fly

To the worlds above
No rhyme or reason why

We are simply in love.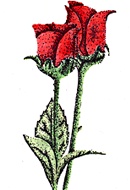 © Sarah M., Phoenix, AZ