Monochrome Photos
June 6, 2017
I printed our photos in monochrome;
I couldn't bring myself to look
At them if they were printed in color.
I remember when mother took
Them; we were sixteen then
And didn't know I'd be unable to look
At these memory photos ever again.

I printed our photos in monochrome
Because it hurts too much to see
The baby blues of your shining eyes.
If anyone had ever warned me
That I'd suddenly never be able to see
You, I would have called them a liar.

I printed our pictures in monochrome
Because I just can't fathom how
You've simply vanished from my life.
I remember that we used to bow
To each other before a pretend knife
Fight, using sticks instead of blades
As we prance around your backyard
And the summer sun fades.

I printed our pictures in monochrome
Because I can't seem to comprehend
The fact that I´ll never be able to hug you,
To feel the heat radiating off your skin again.
When we were young and sat in mom's new
Garden to exchange stories about our day,
I vividly recall you gesturing frantically
About a brand new word you'd heard someone say
With such pure amazement and unfiltered curiosity.

I printed our pictures in monochrome
Even though I'm certain you'd scold
Me and tell me that everything will be okay.
But every time I think, I know I'm growing old
And that I can't actually hear you say
Any of these things to me.
You see, this is taking such a toll
On me that I'm talking to this paper, see;
What's worse is that I now have a bowl
In my dresser as a keepsake of little
Memories of us together again.

I printed our pictures in monochrome
Even though I'm perfectly aware
That this grief is most likely not healthy;
Aware that people will no longer view us as a pair,
But as individuals who were separated unfairly,
As individuals who dwell elsewhere, as an irate
Girl who misses the person closest to her;
The once-pair who were destined by fate
To be kept away, not even by a sir,
But by something far worse than that:
By something which can never ever be reversed.

I printed our pictures in color this time.
Even as I stood at the machine and pressed
That button, I knew it would hurt me.
I thought about everything I was missing, but against
All odds I began to wonder: Could it be
That I'm wrong? If I ponder this
Long enough, it becomes more clear
To me that in reality, perhaps I am lucky.

I printed our pictures in color
Because I realized that I still have something
That so many other people never had;
Even though we are physically separated, nothing
Could truly penetrate our bond, and I'm glad
That I finally pieced together that even though
You are not here, even though I can never
Touch you or hold you or smile with you or grow
With you, nothing can harness power with which to sever
Our beautiful, incredible relationship.

I printed our pictures in color
Because I have been lucky enough to be
Able to create immaculate memories with you,
And that I was gifted to see
That I was blessed enough to know you
When you were with me, and I now know
That you will forever reside within my mind.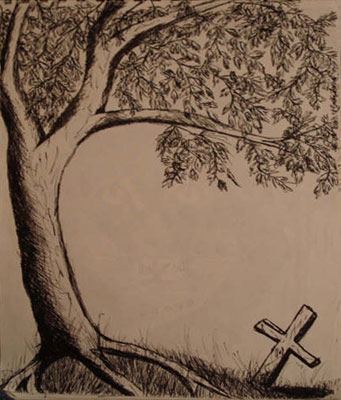 © Courtney K., Bethel Park, PA