flash frame
February 4, 2009
click

click





flash.


and he sees it.
for a split second, he sees what he's missing.
illuminated by the harsh streak of light.
he sees the world.
the colors. faces. expression.
he sees the pure bliss in her eyes,
as she looks at the one she loves.
the adoration in the mans, and he returns the stare.
he sees the spark, as their hands brush.
he sees the streaks of light,
in patters across the sky,
left by jet-planes. taking people where they know they're going.
he catches a glimpse of himself,
reflected in the glass of the window,
and that's where he stops to think.
he sees the boy that's spent his life behind the lense,
adjusting shudder speed and apperature.
he sees the boy that everyone else sees, but doesn't know.
they don't see the longing.
how he wishes with every strip he developes,
that he'll find something of himself.
he sits in the darkroom, but with every negative,
in every frame of captured wonder, there is reality,
but nothing of himself.
so he keeps trying.

click

click





flash.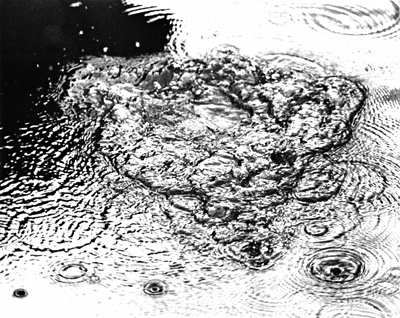 © Christina L., Great Falls, VA