Greedy commander
December 19, 2008
(TRY SINGING THIS LIKE 'RUDOLF THE RED NOSED REINDEER).

Once there was a commander,
HE WAS REALLY GREEDY MAN,
He had a talk with Dragon,
That he should give all his money to him.

Then dragon showed someone sent away
He looked really poor and sick.
WHAT HAVE YOU DONE TO HIM
The commander said.

THE DRAGON LAUGHED AGAIN,
Then told him what happened.
HE TRIED TO STEAL MY MONEY,
So I stole all his money.

AND NOW HE'S GOT NOTHING TO KEEP,
He just walks around the town.
BEFORE YOU BECOME LIKE THAT,
You shall run and run and run away now. --

I'LL GIVE YOU TEN SEC. TO RUN
And I'll start chasing you.
SO HE STARTED RUNNING AWAY.
But he was too slow for Dragon.

DRAGON CAUGHT UP ON HIM.
"Please don't take my money,"
I DON'T BELIEVE YOU HUMAN
That's what the others said.

So Dragon took his money,
and now he's got nothing to do…
BUT HE WAS STILL A COMMANDER,
He called all his army…

THERE'S A DRAGON RIGHT OUTSIDE,
If you kill it I'll give you thousands.
SO ALL HIS ARMY RAN OUT,
And tried to kill the dragon…

BUT THE DRAGON WAS TOO GIANT,
It stepped on half his army…
Then one foggy Christmas Eve,
Commander came and said:

IF YOU FIND SOMEONE STRONGER THAN HIM,
I'LL GIVE YOU HALF OF MY MONEY
So, again all the soldiers,
ran and ran to find him!

But there was no one like that,
THEY ALL JUST DIED OUT THERE…
Commander just waited there,
hoping someone would come…

But as you know there's no one like him
SO HE JUST DIED IN HOUSE.
Meanwhile the evil dragon
Was just counting cash…

SO IF YOU SEE HM SOMEWHERE.
You should be careful with your money …
Or else he will steal everything.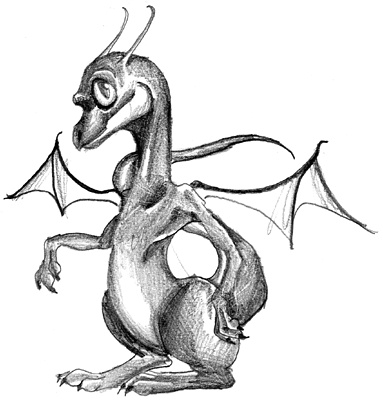 © Andrew Z., Philadelphia, PA